RSS News Feed
---
RETAILERS:
Stardrop Book 3 Order Links for Retailers
---
Visit me on FaceBook!
---
Past Comments:
—
The Pull - Looking for a New Place to Live - Closed Loop 2017
—
What's up with all the Anti-Russian sentiment?
—
How to Stay Sane in an Insane World - Top 3 diet changes (not what you think!)
—
MadMax and Tomorrowland - Reality Splitting Decisions...
—
Star Wars the Force Awakens - JJ Abrams is a Lightweight
—
I Will Not Hate Because You Want Me To
—
Response to Amazon and Kindle Direct Publishing
—
Art Software Review - OpenCanvas 6
—
Why Facebook is an unreliable tool for the Self Publisher
—
Three Questions from a Beginner Cartoonist
—
Comics in the New Media ~ How to Publish Comics on Tablets and eReaders Without Getting Ripped Off
—
Mark at the Movies:Superman, Man of Steel. Propaganda to dim the spirit and fan your fears.
—
Mark at the Movies: What do, Mirror Mirror, Hunger Games and Cabin in the Woods all have in common? More than you think!
—
365 Days of Digital Cartooning - Drawing Comics on a Tablet PC
—
UPDATED!
Tablet button bar Button for Photoshop / PaintTool Sai / MangaStudio5
—
Photoshop CS4 vs CS5 Speed Comparison for Tablet PC
—
Photoshop Speed-Up Trick for Digital Art
---
Stardrop. . .

STARDROP


Please become my Patron! It's super-easy. See Patreon to find out how. -Now, don't worry; everything will remain free to read here, (many of my readers do not have credit cards, after all). But I'm a full-time cartoonist and I need to pay the bills. There are hundreds of folks reading, so those who are able, please consider chipping in with as much or as little as you choose. Even a buck a month would be a blessing! Those of you who have already extended your support, oh my goodness, Thank-You! It literally means the world to me!

New Episode #360 - Next Episode, Thursday May 7th

Digital Editions Now Available

"High Resolution For Tablets!"
$8.25 CAD
Download Stardrop Volume 1 Download Stardrop Volume 2

-No DRM -No Hassles -Super High Quality -Whole Books with all the extras!

Technical note: I'm using a new sales system for this which doesn't require all kinds of complicated filling out of forms and such. The back-end magic is worked by Gumroad, an on-line system designed just for digital content; easy payment, reliable delivery, no mucking around. -And holy smokes! They play fair, taking 5% + 25 cents per transaction. Are you paying attention Apple and Amazon? This is how it's done.

---

| | |
| --- | --- |
| NEW! Stardrop eBook Now Available! (See the Studio News (below) for the scoop on this!) | |

---

Visit the Australian StarDrop Mirror. (Thanks to Andrew and Katherine for their wonderful support over the years!)
---
---
---
---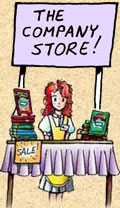 Click on a book cover to learn more about it!
Over-Seas customers, please inquire about shipping costs.
-Otherwise, I'll ship via sea mail; costs about half and takes 4-8 weeks. Thanks!
---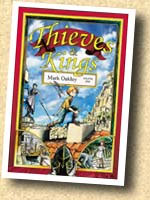 The Red Book Vol.1
(154 Pages)
cover price: $18.95
ISBN 0-9681025-0-6
Pay: $15.00 CAD
---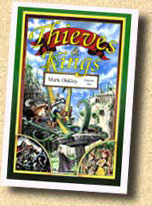 The
Green Book
Vol.2
(260 Pages)
cover price: $24.75
ISBN 0-9681025-1-4
Pay: $20.00 CAD
OUT OF STOCK!
---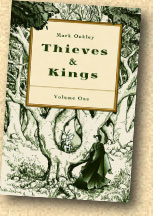 Introducing...
The NEW VOLUME 1
Contains both the old RED and GREEN books!
(412 Pages)
$27.95 CAD
(Orders from outside Canada and the U.S. use this page please!)
---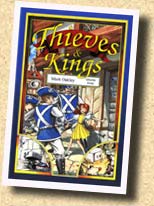 The
Blue Book
Vol.3
(184 Pages)
cover price: $24.75
ISBN 0-9681025-2-2
Pay: $20.00 CAD
---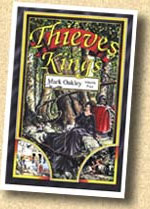 The
Shadow Book
Vol.4
(272 pages)
cover price: $24.75
ISBN 0-9681025-3-0
Pay: $20.00 CAD
---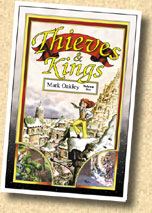 The
Winter Book
Vol.5
(208 pgs)
cover price: $24.75
ISBN 0-9681025-4-9
Pay: $20.00 CAD
---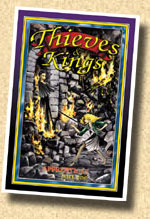 Apprentices, Book I
Thieves & Kings Vol.6
(104 pgs)
ISBN 0-9681025-6-5
Pay: $15.00 CAD
~OR~
Download Tablet Version
$8.25
---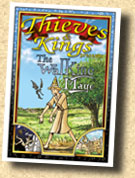 Thieves & Kings
presents. . ,
The Walking Mage
64 pgs ISBN 0-9681025-5-7
Full Color
$11.00 CAD

---
Thieves & Kings
presents. . ,
Riverwolf
Music from Oceansend
$15.00 CAD
---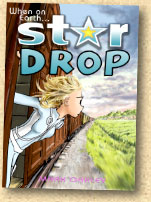 Stardrop
(192 pgs)
ISBN 978-0-9681025-7-2

$12.95
CAD
---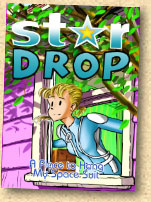 Stardrop Vol 2
"A Place to Hang My Spacesuit"
(208 pgs)
ISBN 978-0-9681025-8-9

$12.95
CAD
---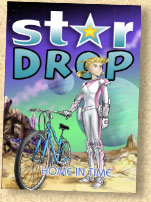 Stardrop Vol 3
"Home in Time"
(208 pgs)
ISBN 9781926496054

$12.95
CAD
---
ePub

The Stardrop Graphic Novel now available for eReaders!
Kindle, iPad, Android and other devices.
$4.95
---
To finalize a PayPal purchace or just see what you've ordered so far, click the "View Cart" button