December 2nd, 2010
Well, well! Time flies when you're drawing!
365 Days of Digital Cartooning - An Experiment
Making Comics on a Tablet PC
As of December 2nd 2010, (today), I have been drawing on a TabletPC for exactly one year since first installing it on my drafting board. This has been a big experiment for me. At one point I was dead set against the entire concept of digital comics-making. As time passed, however, I began to see that my fears were overstated; namely that the craft of comics making would be damaged by the technology. -While not unfounded, (copy and paste cartooning and artificial intelligences doing the work of the artist), have proved to be choices rather than automatic end results. True, we do see our share of fluff produced by cyber-augmented cartoonists, but just as the typewriter allowed everybody and their dog to fill the world with text, it did not stop authors being just as creative as before. Indeed, it allowed them to spread their wings.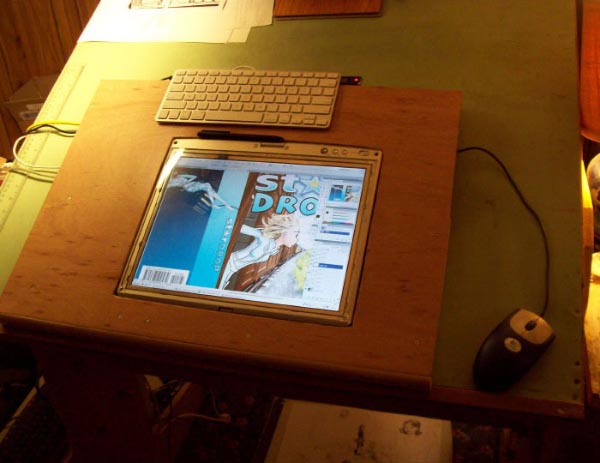 Today, the world's premier digital drafting board and first choice of illustration and production houses is without a doubt, the Cintiq, built by a company called, Wacom. Their flagship model is a 21" monitor designed to be mounted to your workspace like full drafting board.
Wacom Cintiq 21UX
21" at 1600 x 1200 pixels
Toshiba Tecra M4
14" at 1400 x 1050 pixels
The Cintiq comes with an elegant, non-tethered stylus (containing no batteries) which allows one to draw directly upon the screen, and thus with a single tool, an artist can digitally emulate pencils, paint brushes, air brushes and inks of all manner. --All instantly, all without needing to clean brushes or mix paints or do any of the countless little tasks which normally make an artist's studio a messy place. Also, working digitally means there is no longer a need for scanning or photographing finished artwork, a time-consuming requirement often frustrated by the refusal of colors ever quite translate correctly.
While the digital medium does have its drawbacks, (the big one being that when the power goes out, the artist's portfolio blinks out of existence), in terms of production cartooning, the digital drafting board is quite an amazing tool.
And so I decided it was high time to get involved. So I pulled together my resources and. . .
Well, actually, I wrinkled my nose. One of the benefits/curses of being the son of an electrical engineer is that I know how things are built. Wacom's premier digital drafting board is a $2000 monster, and frankly, that's a bit hard to swallow knowing that Wacom's contribution is a basic antenna array which is simply an etched cirucuit board or similar along with some nickel and dime controler chips. The screen itself is a consumer grade bit of technology bought at cost from an Asian factory and all put together in a plastic case which probably cost less than a dollar per unit. Charging $2000, while perfectly valid given the market segment and the nature of business, still causes me to choke when I consider the grocery-bag cost of materials.
Anyway, I wasn't even entirely convinced that this whole digital thing was something I wanted to try in the first place. Keeping up with the times is one thing, but come on. . !
So I figured I'd experiment first. I'd heard that there were Tablet PCs out there; laptops where the screen would spin around and fold back so you can use it like a clip board. Turns out Wacom provided the digitizer technology for those things, and as it happened, eBay was full of them for next to nothing. So I decided to start there and see.
Well, I saw and I was impressed, and then the tinkerer bit of me upon which Quinton was partly based got involved. It seemed to me that I could pick up a broken machine and turn it into something amazing. Something almost as amazing, perhaps more so in some ways than even Wacom's giant Cintiq, and for barely a couple hundred bucks. . .
It is time to issue my report on the experience.
So let's begin. . .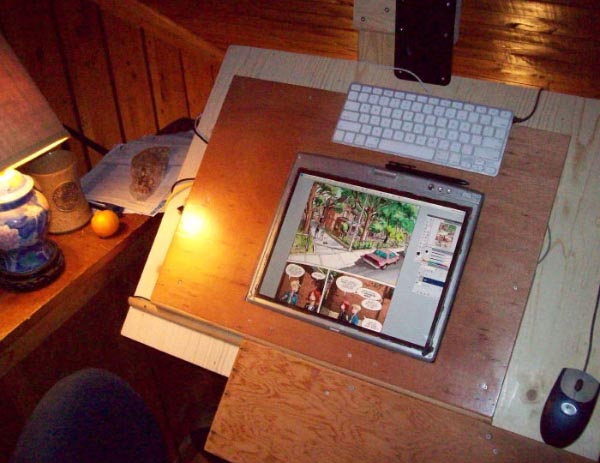 The Hardware
That's an old Toshiba Tecra M4. It has a 14" Screen at 1400 x 1050 dpi, is maxed out at 2 Gigs of memory, has a 1.73 Gh Pentium M processor, and a 64 Mb NVIDIA Gforce graphics processor. As with all Tablet PCs, the screen swings around and then folds back upon the keyboard so that you have this slate deal going, and you can hold it like a clip board and draw right on the screen with the supplied stylus. Wacom supplies the digitizer, which has 256 levels of pressure sensitivity.
I've mounted it into a wooden skirt so that it's flush with the desk surface, which allows my arms and hands to move across the screen as though it were a light table. That in turn is placed upon a drafting board set to a 30 degree angle. (I built that second drafting board you see in the picture above so that my original one would be freed up and available for real ink and paint work.) That's an Apple USB keyboard up at the top there. I lay my arms flat on the table to type, and look between my arms at the text on the screen. I made sure all the angles and measurements fit my body so that all in all, it's quite comfortable to use.
After one year of use, however, I do find that I no longer split my time between drafting board and regular computer desk. This means that rather than alternating between two different sitting positions, I instead have my head leaning slightly forward as I work, and I do so for long periods of time. No matter how well I strove to design this new table with these issues in mind, I find myself exiting the work day with pains all across my shoulders, neck and back. This can lead to head aches and other unhappy stuff. Then my girlfriend dragged me down to a yoga class one day, and I'm now a convert for life! There are a number of stretches which literally make the difference between feeling like an aching mannequin and being happy and limber. I do about half an hour of stretches each day at home, focusing on neck, hips and shoulders. I recommend this for anybody who works in sitting positions for long periods of time. It has made me a much happier person.
A Glass Screen
--The original screen covering for the Tecra M4 is not very nice. It's designed to be strong and flexible and to survive thousands of hours of stylus scrapings, and it does this well enough but at the cost of screen clarity. So I replaced the plastic screen cover of the tablet with glass.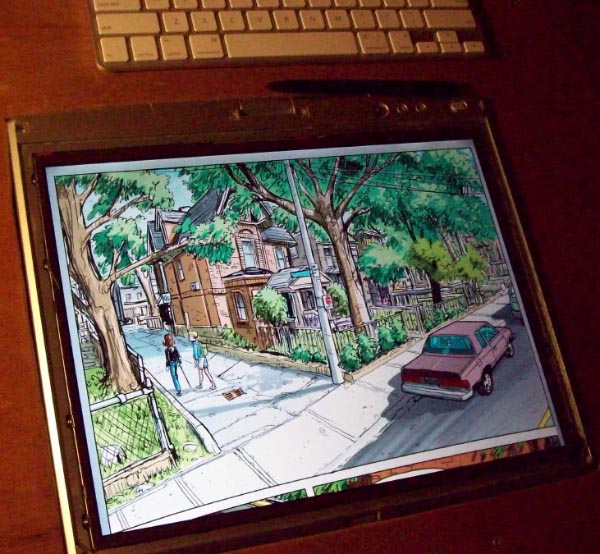 The replacement was about $10 at a local glass cutter. I just took down the plastic screen I'd removed, (peeled up from some two-sided tape installed by the manufacturer), and had the glass cutter give me a sheet of basic 2.5 mm window stock in the same shape. This I slotted down into the recessed area of the screen frame and, Voila! (Though, it will come out again, which I find is useful for cleaning. You'd need to re-apply some two-sided glass tape if you wanted to be portable.)
Glass offers the advantage of being super-clear and great with color. The Tecra M4 doesn't have the greatest screen in terms of viewing angle, but it's bright and the colors are sharp and vivid.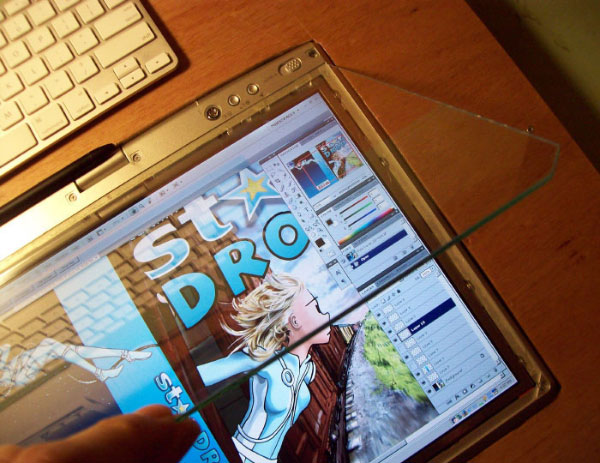 Drawing on glass does take some getting used to because it's just so smooth and offers zero pen resistance. However, now that I am accustomed to it, I wouldn't dream of working on any other surface!
The Bad Stuff. . .
The Tecra M4, while hosting a big and high-resolution screen, one of the very biggest ever made for a Tablet PC, does come with some fairly serious drawbacks. There are two big ones in particular, both having to do with the M4's cooling fan system, and these problems afflict every unit of the M4 ever to have rolled off the assembly line. --The CPU fan turns on too long and too loud, driving people bonkers with the resulting hair-drier noise level, while at the same time, the GPU fan doesn't turn on at all, allowing that chip to over-heat and die. Not a week will pass when eBay does not feature at least one used Tecra M4 with a faulty screen, and the problem is invariably a burnt-out GPU. These cooling fan problems have prevented the M4 from becoming one of the all-time favorite tablets with users.
But the M4 was just too awesome for me to stay away from. The screen size, while smaller than the grand 21" Cintiq, has a higher per-inch resolution and the 14" screen is big enough to draw on without feeling claustrophobic. This is notably superior to those tablet PCs with 12" screens. It's also possible to get a used M4 for between $200 and $400 today. (I got mine for even less because it was pretty dinged up.)
And so I wanted to see if I could modify one of these machines so that the fan problems were fixed. Last year I posted a series detailing my exploits on that particular adventure which you can read if you want. It's over on a Tablet PC forum where I learned a lot about how to go about working with these machines, and ended up posting a fair bit about them. (I have a tendency to become rather obsessively learned about a subject I've set my sights on.)
(What I basically did was bypass the cooling fan control system and hardwired them directly to a USB power source at a low enough voltage so that the fans run whisper quiet while keeping things cool enough to work effectively.) This solution has worked out really well for me, keeping me in business for a whole year without trouble. . . sort of.
Software limitations. . .
The down-side is that I cannot use any software which makes heavy use of the GPU for more than a half hour or so before the computer starts to overheat; this includes the ever-popular Sketchbook Pro and even the new Flash Player version 10 will sometimes set off warning bells, (though turning off graphics acceleration in the player's options solves this problem). I could, if I wanted, increase the fan on the GPU so that it's running at 100%; that would easily solve the heat problem, but it would also be too noisy for my liking. I like a calm and quiet studio, and I'm willing to make sacrifices for that.
Fortunately for me, Photoshop CS4 happens to be based on the ancient Adobe code from the dark ages before dedicated graphics processor chips were commonplace, and so that venerable graphics program is unique in that it does all of its work through the CPU, which in the M4 never over-heats.
So I do all of my graphics work in Photoshop. This I find to be entirely acceptable. Photoshop isn't the easiest program to get used to, but once you work out the kinks in your process, it becomes second nature. It's very fast software, benefiting from nearly two decades of refinement and I generally don't experience delays or lag times when Windows is running properly. (There can be serious lag times if the Microsoft operating system gets out of whack, but that doesn't happen often and is easy to fix simply by re-starting Photoshop.) Mind you, the Tecra M4 is not as fast as other, newer machines, and so you will notice lag times if you work with really big and complicated brushes, or if you are inking very quickly. Lettering, for instance, in Photoshop, can feel a bit laggy, but you have to be really motoring to notice it. I only go that fast in the pencil stage and slow down for the inks so that the lag isn't an issue for me.
I do mostly black & white comics with some color work, all of it at a high enough resolution suitable for a printing press. I do my black & white work at around 1000 dpi, and my color work at 600 dpi.
Digital "Penciling"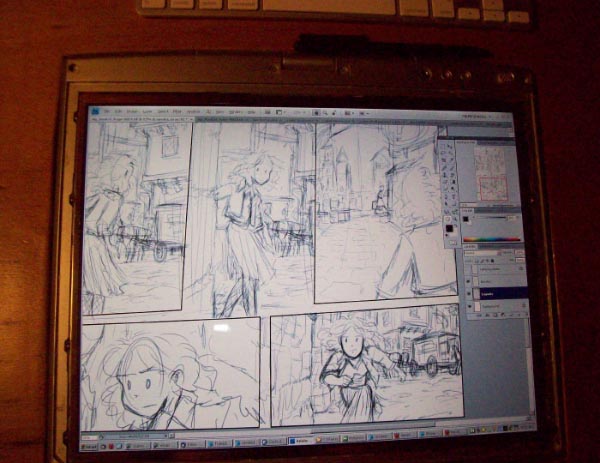 One of the discoveries I made when first starting out with Tablet PCs was just how marvelous the experience of "penciling" was on the machine. It is very similar to working with real pencil in terms of the finished look and the feel of the process. I just set my brush to around 13 pixels, and both the opacity and flow to between 30-40%. Using black as the base color, the result is very similar to pencil, (except erasing doesn't destroy the paper!)
I find that I will frequently hit "Ctrl T" on a selected bit of penciling, which allows me to rotate, re-size or drag around any portion of a penciled image which needs adjustment, or just use it to move elements around in a scene until the composition feels right. This is a vast improvement over real pencil work! In the past, when I'd draw a head too large for a body, I'd have to erase one or the other and start again. Even after years of drawing, I'd still find myself regularly screwing up proportions, but now it's much faster and easier to deal with!
Inking!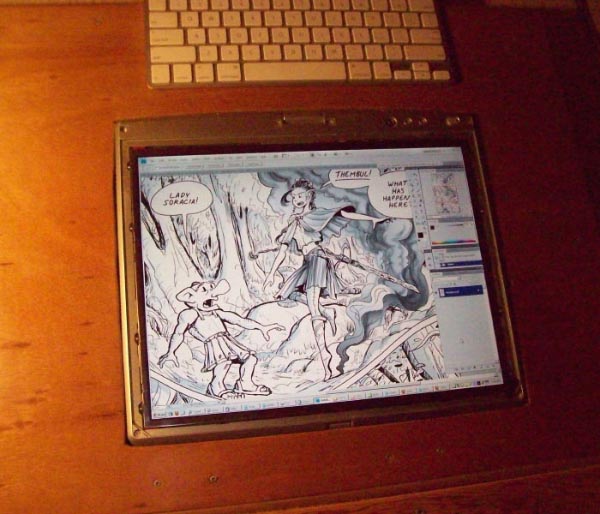 Ink work is also a real pleasure. That undo button allows me to stop worrying about the final line and just throw myself at it. Amazingly, this creates a situation where my digital inks often look cleaner and more like actual ink than the real stuff does! This is not something I was anticipating at all.
Below are two examples of my work from Stardrop where I think the difference between the two approaches stands out.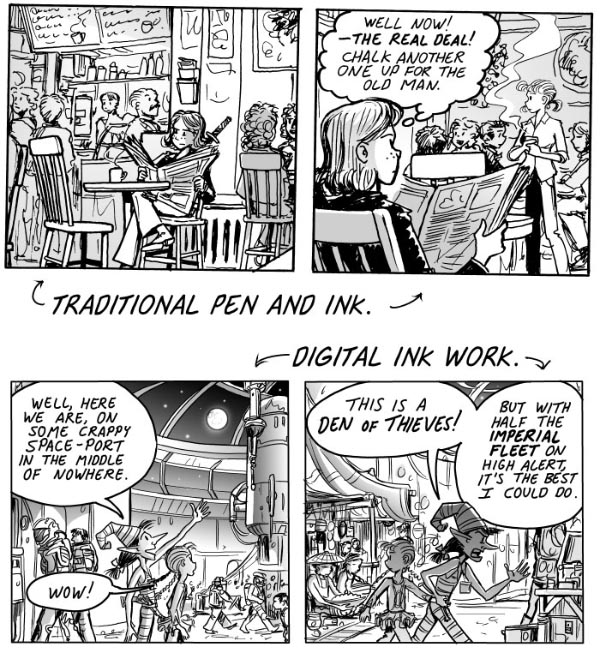 Inking on paper is never perfect, and the process of scanning adds a degree of noise to a line. When a piece of artwork goes to press, the end result is, I think, really noticeable. I find that the line work is able to appear finer and sharper on a digital canvas, whereas paper work tends toward a thicker line. (An example to note is in that second panel on the top where the blond girl is looking off to one side. I wasn't happy with the face I'd scanned in at the time, and so deleted it and drew another using my well-worn Wacom Graphire. I was able to give a very thin and precise line.)
On the other hand, I find that my line-work becomes almost TOO loose with the digital canvas. While theoretically possible, using a straight-edge on a screen simply doesn't offer the kind of accuracy as it does in the real world. In dealing with this, I have just allowed my style to change without complaint; I don't think a looser line style is any worse or better than a more rigid one. --I use disposable pens with ink wells for drawing on paper, and those tools were largely responsible for the final look of my line quality. I chose those pens simply because they were easy to use and didn't need cleaning, so obviously I'm not terribly attached to any one result so long as it looks nice and works for whatever story I happen to be drawing!
"Undo"; Power of the Gods!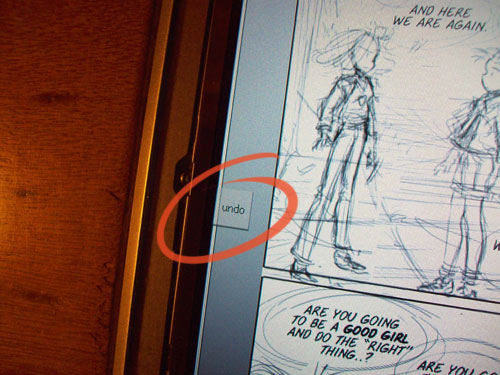 Having that keyboard always within easy reach is cool and all, and I do use it all the time, particularly the space bar, which toggles the hand tool in Photoshop.
But sometimes, with stylus in hand, I find I just don't want to switch gears or reach up to hit "Ctrl Z" with my left hand when I want to undo something.
Many tablet PCs come with little buttons baked into the edge of the screen which can be tapped with the stylus in order to trigger a pre-programmed macro. This is awesome! Sadly, the Tecra M4 doesn't have this power.
So I spent a while scouring the internet for programmable on-screen buttons. There are some really cool solutions out there, (Shepy's Modlock, being one, though it has a few issues which render it ill-suited for my purposes.) So I wrote my own using Autohotkey
I use it all the time, and maybe others can benefit from it. I wrote up a short article on it which explains more about how it works and allows you to download it. It's a tiny and ultra-easy program which works in every version of Photoshop.
A Cintiq for Everybody!
So this has been a helluva neat experiment for me. After one year of working with a Tablet PC, I cannot see myself going back to traditional tools for work. I would highly recommend a digital tablet for other artists. The Tecra, if you are brave enough to open it up and do some fairly straight forward tinkering, then for about $300, you can have a really solid home-brew Cintiq which I think is actually superior in some ways to Wacom's much vaunted top of the line system in terms of screen pixel density. Toshiba's Tecra M4 with its 14" screen and 1400 x 1050 dpi display offers significantly more real estate than Wacom's thousand dollar 12" Cintiq, (which has 1280 x 800 dpi), and pixel for pixel, not a whole lot less than their $2500 flagship 21" model which offers 1600 x 1200 dpi. For less than the price of a month's rent, that's pretty darned cool and any other artists out there who are interested in exploring the digital medium, this is something to take note of!
The downside, in my case, anyhow, is that I am limited from using some of the cool 3D features newer art programs offer. It would be nice to be able to rotate the canvas in real time with software, for instance. On the hardware side, I could build something which allows for that, perhaps installing a Lazy Susan beneath the whole rig, but I find I'm not terribly put out just physically leaning around my artwork while I go for that special line here and there. But then, my particular style doesn't demand too much precision in that regard. Some artists, however, might find this more troublesome.
Things I would improve if I could. . .
Due to constraints in basic math functions, Photoshop's magnification tool in the image navigator, when you zoom in and out of a page you are working on, only percentages of 100 divisible by 4 result in clean line transformations. That is, if you zoom out to 33% of an image, the line work is a bit scruffy. But if you pull out to 25%, it looks sharp and nice. This, I find quite annoying, and so I prefer to work only at these quarter up and down levels.
The reason lies in the fact that four pixels on a grid of pixels, (as all LCD monitors are designed), can be used to represent one pixel with ease, (and vice/versa), but three pixels trying to be one pixel. . , not so much.
Work at 25%, while offering nice clean lines, results often in an image which fills too much of the screen. I'd like to pull back a touch. And 12.5%, which is the next level out at which the line-work is sharp, is a bit too small to really see what you're doing. I could always reduce or increase the DPI of the image, but that then changes reproduction qualities for press or results in obscenely large files. This math problem was a weird one I didn't expect to have to deal with, but there it is.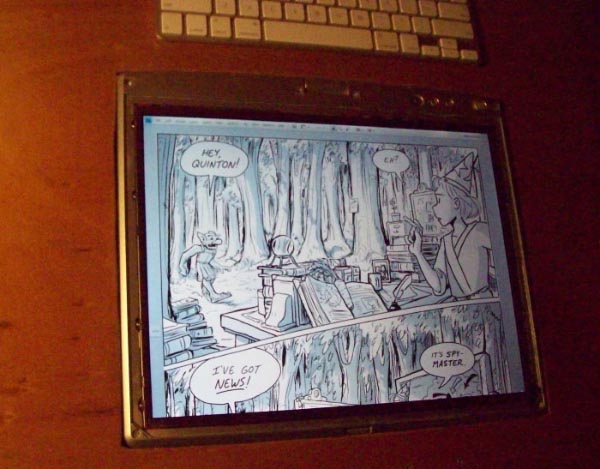 I'd be happier if the screen was taller. I'd like to be able to work on a whole page without it being chopped off at the top or bottom. Even the big Cintiq 21UX at 1600 x 1200 dpi can only barely offer that, and so we spend a lot of time zooming in and out, looking at the whole composition and then zooming in again to work on it a piece at a time. This certainly does not present an impassable problem, but it would be nice to not have to do that anymore.
On the whole, however, I am very happy with the results of my exploration into digital art. My one real regret being that when it comes time to make a real painting with real paints on real artboard out here in the real world. . , I find myself reaching for the undo button!
So that's it! I hope this has been interesting and maybe useful for some of you.
Now. . .
Back to work!
Mark Oakley
Wolfville, NS
December 2nd, 2010
Previous Comment
News Archive